IVR Basics
Interactive Voice Response System (IVR) is a technology that allows callers to interact with a company's communications system over the telephone. It enables the caller to get information from a database, enter information into a database, or both. The IVR System allows the caller to communicate through the phone system which is connected to the computer system to make a transaction or to get information from the company. This is an efficient way to exchange of information that does not require a receptionist or any other staff member to assist.
More sophisticated IVRs, like the ones we design, can also incorporate SMS or Text Messaging into the system.
An IVR assists the user through a series of pre-programmed prompts. These prompts can be pre-recorded or be a combination of pre-recorded and sophisticated computerized speech and can also further direct the caller to a live customer service representative. In some cases, it may be forwarded to a voicemail box or even a message from the customer recorded and emailed to the customer service team.
Most of the time, IVRs are used by small and large businesses to reduce their labor costs by using automated systems to answers routine queries by customers. It also extends the hours of operation by making your service options available 24/7.
IVR systems can also be designed to recognize human voice and respond accordingly. Depending on the level of speech recognition sophistication needed by the business, IVRs can be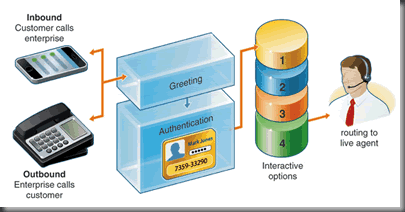 programmed to recognize names, locations, and can also take a string of numbers, making IVRs convenient for bookings and credit card transactions.
Depending on the needs of the business and the type of system used, IVRs may consist of customized hardware and software. In some cases, if the IVR is being hosted in an external data center, the customer may just need the software component or just data connectivity.
Uses of IVRs
Interactive Voice Response Systems can be used to automate just about any task. If your data resides on any kind of database (MySQL, Oracle, MSSQL, Access, FoxPro, even Excel etc), IVRs can read and write to it.
Surveys – Phone or SMS

IVRs are perfect for setting up anonymous surveys, or even conduct post-sales satisfaction calls. Research has shown time and again that businesses that follow up within the first 24 hours of a sale, are more likely not to have a buyer's remorse. Why do you think companies like Sears and Wal-Mart set up Automated Systems to follow up with customers who have made big ticket purchases or have had something delivered to their home? Such systems can be set up to thank the customers for the business and ask them to provide a quick satisfaction survey, if they agree and the IVR can even be programmed to transfer the call to a live customer satisfaction representative, if the customer is not satisfied.
Extend the Hours of Customer Service (without the extended labor costs)
With a properly designed IVR system, even a small business can afford to provide round the clock customer service to their clients. IVRs can be easily integrated into an existing phone system and most phone systems allow easy configuration options that can turn on your IVR at designated time only, if you so choose. Most of the businesses we have dealt with inform us that the majority of their incoming calls are from existing customers looking for very routine information. Even calls from potential customers are often looking for some basic information. IVRs can also be programmed to send out automated SMS or voice messages on demand or provide detailed step by step instructions.
Do Let Customers Verify the Status of the Money Orders, Cashier's Checks, Gift Certificates and more
If you are in the business of selling Money Orders, are a small bank, sell gift cards or certificates or even phone cards, an IVR can help you automate much of your call volume. IVRs can provide the customer with up-to date status on their money orders, place holds, request stops, check balances and activate phone cards. Our team can even develop Custom Websites that can integrate the IVR with your back-end systems to provide customer service via the web or the phone.
Schedule or Confirm Delivery Times (Outbound Calling)
IVRs can be designed to make outgoing calls based on any number of criteria. Some furniture companies use this to confirm a delivery time with the customers to remind them of the delivery date and time. they can be configured to accept a cancellation as well.
Caller Verification & Two-Factor Authentication
Even companies like Google and Craig's List use the telephone to verify the identity of their website customers. Due to the anonymous nature of the website, in conjunction with your website, or sales team, IVRs can be designed to use the Automated Phone Systems to validate users, often by providing a unique number that a user then has to input on the website. Regardless of your industry, we know that passwords alone no longer provide enough security. To confidently verify your users' identity and protect your application or service from data loss, fraud, and malicious attacks you'll need a better solution. Our Two-Factor Authentication system lets you implement strong account security for every user.
Do More with Less
IVRs let businesses expand their sales without increasing support personnel. Just imagine this: According to our research, an average inbound call lasts six minutes. A typical phone customer service representative will spend a standard eight hour work day answering 55 calls. Say that employee makes $38,000 per year (pay, benefits, taxes, infrastructure costs). If you could re-position that employee into a more productive role, for example, focusing on more challenging customers or making sales calls, imagine what it could do to your bottom line? If you have a phone support staff of 6 employees, you could potentially reduce that to one or two and re-position the remaining employees to more productive role.
A typical IVR can handle multiple calls simultaneously and can do so 24/7/365
A professionally configured IVR System can also help redirect calls to the appropriate department only after the caller completes a series of questions.
As you can see the uses are endless.
To learn more or to discuss your options, please call us at 800-826-0357 or simply complete the short form on the right.