IVR Solutions for the Healthcare Industry
There are many ways a healthcare business can benefit from the advantages offered by a well designed IVR system. We realize that everyone has a different need, and that's why we specialize in designing innovative HIPAA compliant interactive voice systems to benefit business in healthcare.
---
Some of the fine companies that use our services to enhance their customers' experiences

---
Here are some of the ways an IVR system can help you save time and money:
Data Capture for Drug Trials

Automate Your WorkflowCapturing data related to drug trials may be cumbersome and labor intensive. We can help automate your trial data collection by creating a custom phone based interactive voice response system that will walk your patients step by step through all the data collection steps. Authentication can be added as necessary. This helps reduce the costs associated with bringing a drug to market and also greatly shortens the time, as the data collection system would be available to patients 24×7 and the results in real-time.

We can also design a system that creates automated follow up calls or SMS messages to your test patients and checks on them periodically without your manual intervention. Special cases can be escalated, if necessary.
The surveys can be setup in multiple languages if you prefer and can be attached to any phone number in the world.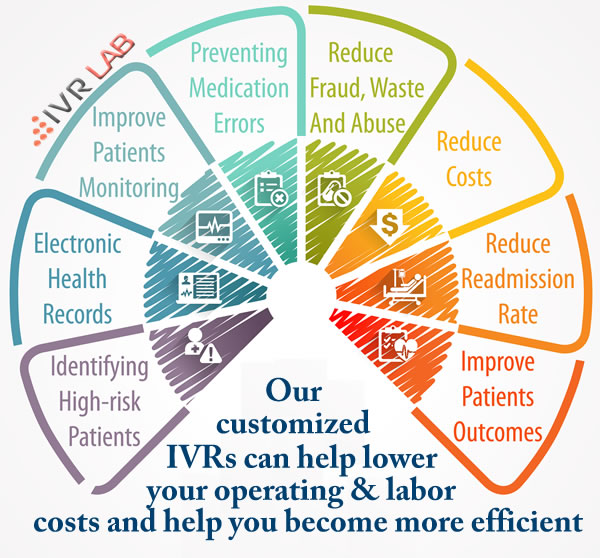 Pro-Active Engagement

Be Pro-Active, NOT Re-Active!
With our solution, you can deliver pro-active notifications to your customers, such as keeping them up to date on claim process, or changes in benefits, for example. Such systems help take away the load from your call center staff, so they can focus on providing service to those who need more complex interaction.
AI (Artificial Intelligence) Chatbots

Next Generation AI Can Improve Customer Experience
Chatbots are no longer a fad. They have rapidly become an essential part of the overall corporate strategy. AI-driven chatbots can carry out conversations with your customers, helping them answer questions, filling out applications or otherwise walking them through some pre-defined process. Chatbots work 24/7 thus reducing the need to have a fully staffed call center 24/7. They allow your customers to get the information they want, how they want and when they want it.
Learn more about AI Chatbots and Virtual Assistants
Customer Satisfaction Surveys
Enhance Customer Satisfaction
We can help integrate a
phone based survey
into your existing phone system for ease of use. For example, a customer can be transferred to our survey automatically after their phone call with your representatives. This way, the experience will be fresh in their minds and you'll get the most accurate and most up-to-date responses.
Alternatively, our system can call your customers within a few minutes of their call for a quick, short survey.
In addition to all that, we can also create an inbound survey that your customers can call into 24/7 and take the survey at their convenience. This is a perfect option if you do a lot of mailings to your customers and all you have to do is add the phone number of the survey in your mailing. The survey can be as customized as you like and would be available 24/7.
The surveys can be setup in multiple languages if you prefer and can be attached to any phone number in the world.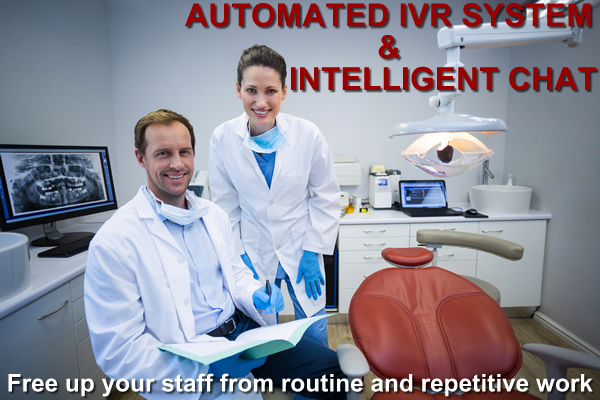 Automate Benefit Eligibility Requests

Free up Your Call Center Staff
Is you call center overwhelmed daily with hundreds of calls related to benefits eligibility verication? Is your staff spending hours running to a fax machine to fax coverage and benefit details to providers? If so, let us help you relieve most of that problem. Our automated IVRs can authenticate and verify providers and members and inform them of their coverage details. Our intelligent system can even fax the details to the appropriate party.
Many MCOs are requiring insurance companies to meet strict SLAs as it pertains to providing service to providers and members. Fear not. Our systems are designed to handle unlimited concurrent calls, and 90% of all calls are answered within 2 rings and information provided to callers within a few short minutes.
Further, an AI Chatbot is a perfect solution for this. Our Chat-bot can be plugged into your existing website with just a few lines of code and can intelligently answer your customers' requests, and even give them account specific information such as the status of their claims – all over a secure connection.
Talk to us and find out how we can help.
Claims Status

Automate Your Claims Status Line
Too often, we find that insurance companies are spending an inordinate amount of resources answering simple questions related to the status of claims. Let our custom IVR take this load off your hands. Whether it is by an Automated IVR, or via intelligent chatbot built on your website, our technology can reduce the pressure on your call center and make it easy for providers to check the status of their claims 24/7.
Pharmacy Notifications
Reduce Labor Costs
A simple interface would allow you to queue up
notifications
to be sent out to your patients whose prescriptions are ready for pickup. messages can be voice, SMS or both and the messages can be customized and personalized.
Similarly, refill notifications can also be made in the same way.
Medical Device Delivery Notifications
Provide Timely Notifications
If your company delivers medical devices, you also most likely help in the installation. It can be a pain for your staff to call every recipient to confirm the delivery time. We can customize our platform so the reminders would be automatic and even allow the recipient to cancel or reschedule the delivery and setup.
Your customers can also be sent a post delivery survey via an automated voice call or SMS.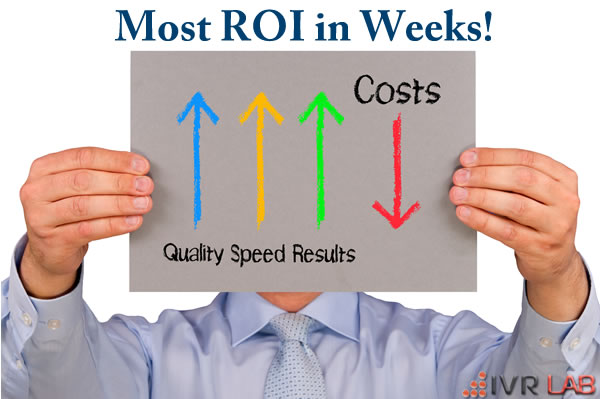 Automated Medical Result Notifications
Provide Superior Customer Service
We can design an IVR to connect to your system or separately integrate so your members can call into the IVR 24/7 and get their medical results, like results of the blood work and reading from retinopathy scans. Authentication can be added.
For outbound calls, we can send messages directly to the voicemail of your patience without having their phone to ring. This can help you remain HIPAA compliant because users generally have to enter their password for their voicemail, or access from their trusted devices.
Automated Collection Calls & Automatic Payments
Automate Routine Tasks
We all have customers who fall behind in their payments and many companies spend an inordinate amount of time following up on past due payments. We have a simple solution. We can either connect to your systems or you feed us a list of numbers to call and we would make automated calls reminding recipients of their past due bills. We can even collect responses from them, like "payment already sent".
More advanced configuration can connect the recipient to your own call center for immediate payment processing, or we can even collect the payment via our automated system. All this results in less work for you and your staff.
Contact Us To See How We Can Help
These are just a few examples of what can be done. If you have an idea that you would like to run it by us, please call us and we'd be happy to help.