Get Local & Toll Free Numbers Around The World
We can build IVRs that make calls to anyone on a traditional mobile or landline, and receive calls on local numbers in more than 100 countries.
Global Low Latency
Our partner data centers are deployed in seven regions on five continents. Our system connects with local carriers for the lowest latency. All IP calls are relayed through the closest point of presence.
Carrier redundancy
Our cloud software has multiple interconnections into the carrier network for each region, allowing for instant failover. Each call can be terminated through at least 4 local carriers.
SMS capable numbers
We have thousands of SMS capable numbers available for many countries around the world.
Scalability and Reliability
All custom applications that we build operate at scale and allow you to roll out your strategies quicker and at a lower cost. Unlike carrier resellers, our partner network gets better every single day, using the collective intelligence from delivering hundreds of thousands of messages across the world to adjust routes and avoid problems before they happen.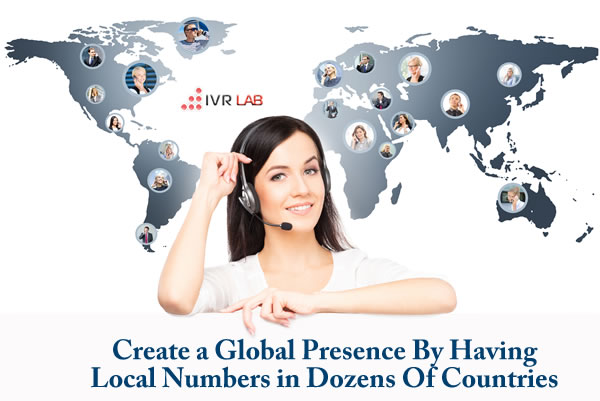 Use Cases
So why would you need multiple numbers for voice and/or SMS?
Global Presence
You can advertise a local number in dozens of countries as your prospects around the world feel more comfortable calling a local number, while all calls could be routed to your central call center, or even an automated IVR system.
Call Tracking and Tracking Campaign Performance
For one, you can assign a different phone number to every one of your ads or listings and track every call and text, capture relevant information to improve performance and show results.
TEXT Marketing
Send news, promotions, surveys, or app download links via SMS. For example, you can put out an ad and offer a coupon to people that send you a particular keyword via SMS. then our system will send out coupons when it receives the code. And you not only get a paying customer, but you also have their phone for future marketing. Imagine having a signboard in your retail store advertising a 10% off coupon to anyone who sends a SMS "SEND COUPON" to your number? You could push window shoppers into becoming customers!
Intelligent Number Lookup
Further, our intelligent lookup can provide you with much useful information about incoming calls such as caller id look up. We can tie in calls with Whitepages lookup that can give you valuable information on callers such as demographics, age range, gender and address. We can also provide a service so you can clean up your own database by verifying phone numbers and pulling in demographic data. All at a very affordable rate.
Instant Leads Alerts
Use SMS and phone calls to alert sales reps of new leads from your website. Research shows that the odds of successfully contacting an online lead are 100 times higher if the lead hears from a representative within five minutes of submitting an online form.
The sky is the limit with what you can do. If you can dream it, we can build it