Using automated phone and SMS surveys to manage the recent Measles Outbreak
Have you seen the recent headlines about the Measles Outbreaks?

According to the CDC, Measles is highly contagious and spreads through coughing and sneezing. Measles remains a common disease in many parts of the world. Anyone who is not protected against measles is at risk of getting infected when they travel internationally. With an estimated 80 million foreign visitors to the United States, this means that many Americans could potentially come in contact with un-vaccinated international travelers.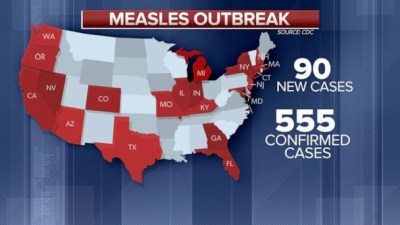 It becomes a huge challenge for health professionals who want to get their messages out about known outbreaks, or informational messages regarding vaccinations. Some public health agencies are turning to mass communication technology to combat these issues. While every public health agency may have its own unique needs, here's how some of our clients are using our IVR Platform to instantly notify the public of known outbreaks, or to gather more information. These same systems also also used to monitor and address incidences of food poisoning like an e.coli or Salmonella incidents.
This is the most common method of contacting a large number of people quickly. Notifications can be quick messages or alerts and can even have an option to connect to a health official if someone has questions
This is also very common, and it is often used for followups or for gathering information about certain symptoms. Health officials can utilize the automated system to make hundreds or thousands of calls quickly to the targeted audience and quickly collect the information they need to make an informed decision. Call us to see how you can utilize automated health surveys to contain and manage an outbreak.
This method is typically used in conjunction with other types of notifications or alerts. It is common for a public health agency to use TV or Radio to advertise a call-in number, asking the affected people to either call-in to a dedicated number, or send a SMS to a specially setup number. Once they caller makes the call, the automated system can ask them a variety of questions to determined their risk level.
Here's a real-life example: A grocery chain notifies the local public health agency about a possible food contamination incident and they want to notify everyone who bought a particular food item between certain dates. They would then set up a SMS survey and a call-in number. The call-in number may be advertised via public service notices on TV, Radio or other local media. If someone believes they may be impacted, they would send an SMS to the provided number, then the automated system would ask a series of qualifying questions going back and forth with the caller to identify whether the person was affected. This helps officials narrow down the list of potentially impacted people quickly and in a cost-effective manner.
Similarly, you can utilize this type of service for all other types of notifications or alerts, from prescription notifications to patient followup to patient or provider satisfaction surveys.
If you are a public health agency or a business that could benefit from such a service, give us a call at 1-800-826-0357 and we'll show you how we can help you manage your risk while minimizing your costs.