IVR Pricing does not have to be complicated to understand
This is a very standard question that we get asked all the time. It is often difficult to answer because most of what we do is highly customized – often times, we design IVRs that have been turned down by many others. Many companies out there will push their specific platform and will want you to change your requirements to fit their system parameters; Others may not have the expertise with a particular IVR technology such as automated transcriptions of recorded speech, or voice biometrics. We build our system based on your requirements.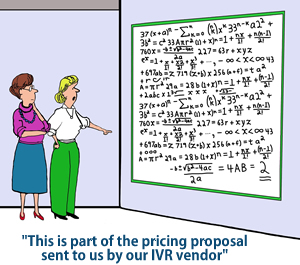 Having said that, most hosted (cloud based IVRs) have two separate price components and it is important to understand both of them.
Customization Fees, or Professional Services Fees
Different companies may call it by different names, but in general, this covers the same things. Depending on your requirements or configuration needs, this may include the costs of designing the IVR system, designing the call flows (menu branching logic), integrating various components such as voice recognition, voice biometrics, transcription services, text to speech services, professional voice recordings, any customized API's, Web Services, server setup and database setup.
The customization fee is usually a one-time fee, payable partially up-front at the time the agreement is signed, with the balance due when the IVR design and development is completed.
This fee can range from a few hundred dollars to tens of thousands of dollars, and can be several hundred thousand dollars for more complex systems.
IVR Usage Fees
This fee is typically recurring monthly or weekly and includes the cost of hosting the IVR, server maintenance, routine upgrades, security and of course, telecommunication costs. The fees also depend on the length of the term of the agreement, typically from 1-5 years.  Generally speaking, agreement terms of longer duration also get more favorable rates.
Depending on the level of usage, this fee may be charged by the minute or a flat monthly fee for up to a certain amount of usage, example: x amount of dollars for up to 50,000 minutes of usage per month or x amount of dollars for a certain amount of calls per month. The usage fee may also depend partially on the number of concurrent call handling capability of the system. For examples, some clients expect calls more or less evenly spread throughout the day, while others expect large bursts of calls at particular times of the day, week, or even year. We make sure your system is designed to handle the load.
The usage charges also depend on whether the customer is a COR or NCOR (Client of Record, or Non-Client of Record) for the telephone company. It is quite normal for a large customer to have existing agreements with telecommunication providers and they may want to keep the IVR under the same contract to get favorable rates. We can accommodate both COR and NCOR customers.
It is also possible to create a hybrid system where the customer may have an existing IVR system that they are under contract with, but wish to add more advanced features not offered by their vendor. In those cases, we can often help them create branches on their existing platform and use call transfer technology to transfer certain calls to our system for more advanced functions such as complex database functions, or biometrics. We will work with our customers to help them save costs by leveraging their existing infrastructure as much as possible.
Conclusion
Now that you know the types of fees and costs associated with a customized IVR system, the best way forward is to contact us for a consultation and explain the use case to us and we will work up an estimate for you. Unlike many other companies out there, we don't nickel and dime our customers or add hidden charges after the fact. The amount you see in the agreement is what you pay.
So, we'll look forward to hear from you soon!