How Can IVRs Help You Be More Productive
It's the main goal of any business to Earn Profits through the sales of its products and services. These days, many of these transactions take place over the telephone. Traditionally, businesses would employ a number of receptionists to answer and respond to client-calls.
However, with the recent advances in IVR, or Interactive Voice Response Systems, businesses can Save on Labor and better utilize employee resources, while still serving their client's needs. IVRs act as a Virtual Receptionist who can answer and respond to a high-volume of calls 24 hours a day, 7 days a week. Essentially, IVR Systems IVRs give business owners several less things to worry about, while saving them thousands on labor-costs.
Professional Connectivity 24×7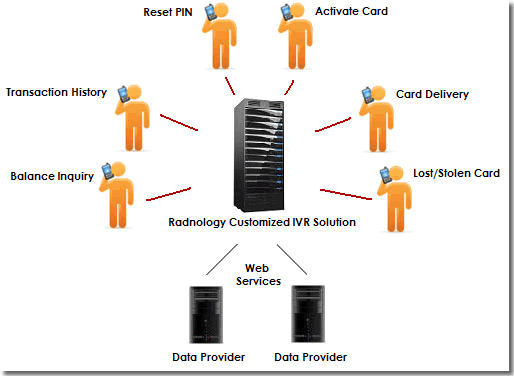 Without the help of any additional staff, our IVR Solutions allow callers to access or retrieve personalized data with the touch of a button. Keypad input technology allows callers to access personal, confidential information from your system anytime, anywhere. In addition to best serving your business interests, your clients will also benefit in a number of ways from our IVR Systems.
With the extended hours provided by IVR and Telephony Systems, businesses owners can now provide services to clients around the globe. Additionally, with IVRs there's less wait time and the option to retrieve information quickly and confidentially. Professionally Developed IVR's are simply more convenient and Cost Effective.
Call Routing
With the installation of IVR Labs' IVR Systems, your business can attend to a high-volume of calls without long wait times or stressed receptionists. We also offer a 'menu selection' system which can answer, route and transfer calls to a particular department, for a more streamlined calling experience. This enables business owners to prioritize calls, increasing overall efficiency. By Reducing the Labor Costs of utilizing a receptionist to handle each call, our clients can increase their volume of calls while better serving their clients. Our IVRs have some of the Best Return on Investment in the industry.
Specialized Features
IVR Systems offers a number of Specialized Features to help you make the most of your IVR System. From a fully automated Integrated Voice Response System designed to collect payments via telephone, to Out-Bound Calling Systems which can Make Sales Calls and Conduct Surveys, Florida based IVR Lab develops unique IVR Applications to suit your specific business needs.
We've even developed a unique "hold" application, whereby clients can access updates on product information, even when the volume of calls is very high. We've also developed systems to produce reports on daily calls received; helping management to efficiently measure ROI.
IVR Installation and Support
IVR Lab will assist you with Hosted IVR Installation. We engineer our systems to address restrictions of location, or differing IT support modules – meaning we will make our systems work for your business. Our Hosted Interactive Voice Response Systems are professionally housed in some of the most largest and Secure Data Centers. And all of our IVR Systems can be completely customized to meet your particular business needs. Depending on your specific needs, a Hosted IVR can help you Save Capital Costs while leasing Professional and Scalable Systems.
Finally, IVR Lab also offers Customer Premise Equipment IVR installation; a system by which the IVR can be purchased outright and managed at your own server rooms by your own technicians. The designers of the IVR Lab IVR Systems are experts in the field of Telephony and skilled in creating systems to fulfill the needs of a business. We guarantee support with relevant issues and will help you select and install the right system for your business, only after analyzing and evaluating your specific needs.
Choose IVR Lab for all your IVR and Telephony needs; making your business work is our business!