Conversational Solutions For Your Business
We build and integrate innovative artificial intelligence (AI) chat bots that converse with your customers utilizing Natural Language Processing (NLP) technology. Your customer experiences human-like conversation in several languages.
Chatbots are no longer a fad. They have rapidly become an essential part of the overall corporate strategy.
How can chatbots help your business?
Once implemented, AI-driven chatbots can carry out conversations with your customers, helping them answer questions, filling out applications or otherwise walking them through some pre-defined process. Chatbots work 24/7 thus reducing the need to have a fully staffed call center 24/7. They allow your customers to get the information they want, how they want and when they want it. Well designed chatbots can help your company save thousands of dollars on customer services.
Bottom line, the advanced artificial intelligence technology of chatbots enhance the experience of your customers, and help increase your bottom line.
Developing an effective chatbot
Designing an effective chatbot strategy begins with understanding your overall objectives and identifying gaps in current offerings by utilizing call center metrics and understanding the current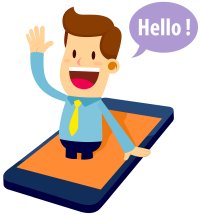 pain-points of your customers. This is often done by analyzing customer surveys. You need to understand what specific problem you are trying to solve. Also important is the whom. Who is the chatbot designed to help? Is it to take the load off the call center folks? Is it to address a particular pain point for customers?
Understanding your target audience is also important in designing a chatbot. Is your system designed to college students? High net-worth individuals? Medical professionals? Identifying this ahead of time allows you to customize the bot and make the experience even better.
Managing realistic expectations is an important component of designing a well-balanced chatbot. Most customers start out with a relatively narrow scope and add on features as they identify more optimization points.
Multiple environments
Chatbots can be used in a variety of environments such as over the phone, SMS based, or web-based chat. Artificial intelligence (AI) is changing the way corporations engage their customers. We are able to integratem most chat-bots into different messaging platforms, including Facebook, Slack and SMS, so no matter where your customer is, you can be there to help.
Superior technology
Chatbots and virtual assistants can utilize a combination of technologies like speech recognition, test to speech, natural language processing, machine learning among other things. IVR Lab utilizes cutting edge deep learning cognitive technology from industry leaders like IBM, Amazon and Google to build and deploy intelligent chatbots that have an impact on your bottom line.
Don't get left behind.
Companies are quickly waking up to the need for AI chatbots and other self-service technology. They are used for automating basic communications and customer service, for reducing call center costs and providing a platform for conversational commerce. More and more, chatbots are offering many new opportunities to delight and better serve consumers. Contact us to see how we can help.