Top Tier SIP Trunking
It is one of the most popular methods of connecting your office phone system. Many companies already use VoIP within their phone system on the LAN to connect to IP phones. SIP Trunking uses VoIP to take advantage of shared lines, such as a company's Internet connection, to allow more flexibility in their communication platform. Traditional phone systems that are not VoIP ready can still gain huge cost advantages by using SIP via commonly available gateways.

Powerful, Flexible, Reliable
IVR Lab offers the most powerful, flexible and reliable SIP trunking solutions on the market. We have the ability to create a custom bundle that includes exactly the right features, pricing model and options for every single client. Get started today.
What is SIP Trunking?
According to Digium, one of our premiere partners, SIP Trunking is a method by which business phone systems can operate using an internet connection instead of a traditional phone line.
SIP Trunking:
SIP Trunking Costs less – Saves money on your business phone
SIP Trunking Scales easier – Makes it easy to scale your operation pain-free
SIP Trunking Is more reliable – Offers increased phone service reliability
SIP trunking is provided by SIP providers, which are similar to traditional phone companies, except SIP providers give access to phone lines over the internet (and SIP service is significantly less expensive – sometimes as much as 60-80% less).
Benefits of Using SIP Trunking
One of the major benefits is cost savings, because it does away with a physical connection to your phone company. You save substantial money because you don't have to maintain hardware, wiring, and complicated switchboxes. A SIP Trunk runs over your existing Internet connection!
Why Use SIP Trunking?
Cost savings and major feature list are two of the major reasons why you should consider moving to a SIP Trunk. If your business is facing any of these common communication challanges, you might be a good candidate for SIP Trunking:
High charges for incoming phone lines
High monthly phone bills
Long distance charges
Recurring IT costs
Recurring maintenance costs
Limited features
With our SIP Trunking solutions, you get the following:
Scalability – Because SIP trunking uses a virtual connection, adding lines or modifying service is fast and simple.
Reliability – SIP Trunking with VoIP increases reliability of services by providing a level of redundancy. When system failures and emergencies occur, SIP Trunking providers can reroute services to a redundant data line or forward the PBX to mobile phones to keep your business up and running. Start using in minutes
Flexibility – Works with most modern phones
Adaptability – Ability to transfer and use your old phone numbers
Low cost phone numbers – Now, all your team members can have their own phone number
Maintenance free – Say goodbye to maintenance – You will no longer have to maintain analog and IP infrastructure
What You Need To Know
Concurrent Calling
How many people are on the phone at the busiest time? That will determine how many channels you will need. Remember, SIP trunks allow for quick and easy scaling, so you may add or remove channels as needed if you under or overestimate.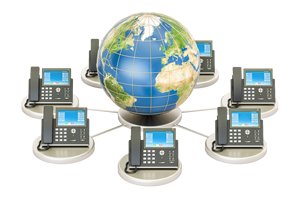 ---
Fluctuating Call Volume
Will your call volume remain fairly consistent from week to week, or will it fluctuate? With SIP Trunking, you can either purchase by the channel or by the minute. Contact us for pricing.
---
Scaling Speed
Will you need to scale or add new users relatively quickly? his is an important factor, particularly when deciding between on-premises and hosted phone systems.
---
Is Your Network Ready?
You also need to think about whether your existing network is ready for SIP Trunking. Among the things to consider: Bandwidth, Quality of Service, Firewalls. Though firewalls are critical, they may need to be configured correctly.
If you are unsure of all these things, don't worry. We can help.
SIP Trunk Pricing
There are two types of SIP Trunk pricing: Per Minute or Per Channel
Per Minute: This is also known as metered pricing. This works well for companies that need more flexibility in their communication needs from week to week.
Per Channel: Also called 'channelized'. This works for companies that prefer a set, predictable phone bill. Thgis type of plan usually comes with unlimited local and long doistance minutes per channel.
Contact us to learn more and to see how SIP Trunking can help save your business serious money.