Surveys have played an important role in helping businesses define performance and customer satisfaction for decades. However, they've evolved over time. It's no longer enough to mail a patient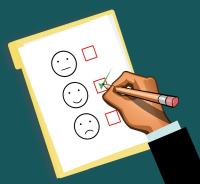 or customer a paper survey and expect them to complete and return it. Neither is it practical to hire a call-center full of staff to make phone calls manually. Today's consumers are too pressed for time. Instead, phone surveys can offer your business critical benefits.
24/7 Flexibility
One of the primary benefits of phone surveys is that they can be delivered 24/7 in order to suit a customer's preferences, geographic area, and other considerations. With the right provider, it is simple to schedule calls within specific time-frames to maximize responses and eliminate no-answer calls.
Audio Recording
Another benefit is that you gain access to a consumer's opinion of their experience in audio format. Handwritten surveys can be difficult to decipher, leading to erroneous information entered in your system. With a phone survey, you have ongoing access to the customer's comments. This also enables you to gain greater insight by listening to their tone of voice and inflection, which can convey greater meaning.
No Wait Time
With other types of surveys, you may have a significant wait time to receive the customer's feedback, particularly with mail-in-style surveys. With phone surveys, you get access to critical information immediately, which means you can take action right away to address challenges, breakdowns in your customer service delivery, or other problems and improve the overall customer experience.
Downloadable Content
Phone surveys delivered through the right provider also offer the ability to download the data from the call and import it into a CSV or another third-party program. This allows you to add this information to your database and CRM program, deliver key data to other departments within your organization, and more. It's ideal for ensuring you are able to make informed decisions, track customer satisfaction over time, and achieve other key goals.
Customizable Survey Types
Finally, you'll find that with the right provider, you can benefit from customizable survey types. It is important to understand that there's no one-size-fits-all approach that will work here. Today's consumers expect your interactions with them to be customized. The right survey type, the right script, and the right import/export solutions are essential. For instance, healthcare providers will benefit from clinical surveys customized to a patient's personal experience. Depending on the healthcare service provider, you also may need to be HIPPA compliant. Automotive dealerships and repair shops will benefit from customer satisfaction surveys that speak to their customers' experiences. Retail companies will benefit from in-depth information about the entire customer experience from the moment the customer arrived in the parking lot through to the end of the transaction.
In Conclusion
Ultimately, both inbound and outbound phone surveys deliver critical advantages and benefits to today's businesses. Of course, it is imperative that you choose the right company – make sure the provider you choose can offer customized surveys, including on-premises or cloud-based systems, financial transaction IVRs, self-service IVRs, customized customer satisfaction surveys, and more. With the right provider, the data you need for growth and success is easily accessible.
Talk to us about your goals and objectives. We can help you design a totally customized solution that can integrate with your existing infrastructure if needed.
We look forward to helping your business become more efficient and responsive to your customers' needs.